Find New Retail Consumers
What do you never leave home without? Our smartphones are today's most essential devices. They are now also the most effective way to reach new customers. That's why having a website is no longer enough for retailers today: you need a mobile app.
When it comes to connecting with today's consumers, mobile is the future. It's also the present. In fact, 77 percent of consumers now access the internet from smart devices like phones and tablets. If you don't have a strong mobile presence, you are invisible to a new generation of consumers, who rely on their phones to research purchases before they buy.
The most striking evidence of this shift in consumer behavior is the dramatic drop in retail foot traffic. Retail foot traffic is down 80% across the board despite a 4% increase in retail sales. That's thanks to fewer shopping trips to browse for options: today's shopper compares options online, not in store. And more and more of that research takes place on mobile devices each year. Without a sophisticated retail jewelry app, your brand isn't considered. The brands with a strong online presence will attract all the foot traffic too.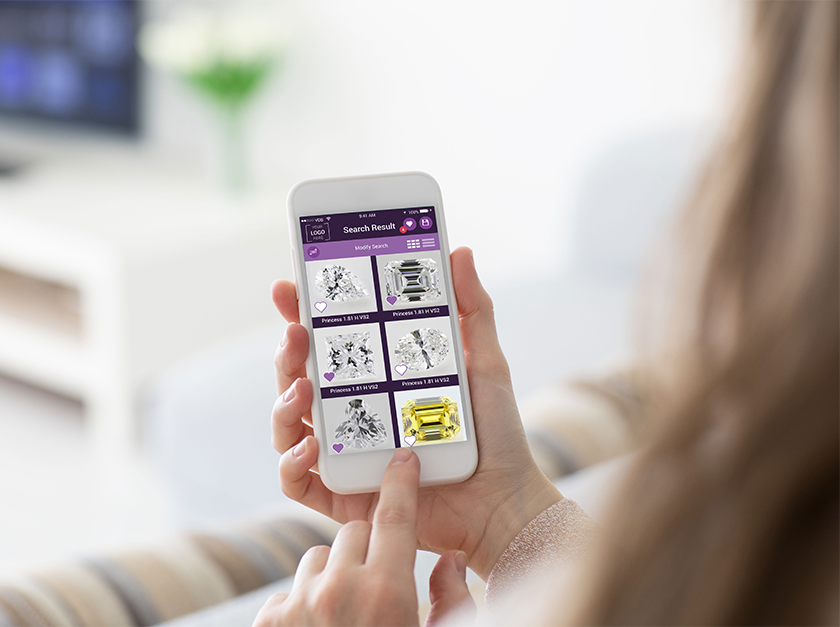 Unfortunately creating your own retail app isn't as simple as building a website. Custom development costs are significant and upkeep is required, since mobile operating systems update constantly. At VDB, we've spent years reinventing diamond shopping for mobile devices, making it easy, streamlined, visual, and engaging. We tested our interface with all kinds of users to make sure it was simple and intuitive, responding to user feedback and the unique requirements of our products.
That simple and intuitive interface is so consumer-friendly that most retailers also use it with customers over the counter to pre-sell diamonds and gems they don't have in stock.
Our retailer customers found it so effective that they asked us "Can you create an app for my store that's like VDB?" That's why we created our White Label Program: a turnkey custom app for jewelry businesses powered by the innovative technology of VDB.
With our White Label Program, you can customize your app a little, changing the branding, colors and logo to represent your business when you use it over the counter. Or you can customize a lot, creating your very own diamond app available under your own name in the app stores that new customers can download. Either way, you benefit from the years of research, development and innovation that built the VDB platform at a fraction of the cost.
And our team of VDB business consultants help you navigate the mobile landscape every step of the way, from finding a plan that suits your needs to helping you choose the best options to training your staff to use your app in the store.
When you are part of the VDB community, you benefit from the skills and experience of the world's most extensive network of jewelry businesses like yours, innovating together to succeed in the future.
Call us today to find out more about creating your own custom version of VDB to attract a new generation of customers.